PipeFitPro Download
Thank you for your interest in the PipeFitPro Download  for AutoCAD.
Free 30-day trial
The download version is fully functional and offers every feature of the product for you to test-drive. The evaluation period runs 30 days after the first use.
Much-appreciated details (details are used for product development and product updates/support purposes only, refer to our Privacy Policy for more information):
License Agreement | Release Notes 
If you experience any problems downloading or installing PipeFitPro, please contact us here.
AutoCAD Requirements
PipeFitPro is supported for use in AutoCAD versions 2000, 2000i, 2002, 2004, 2005, 2006, 2007, 2008, 2009, 2010, 2011, 2012, 2013, 2014, 2015 or 2016.
Sytem Requirements
Windows 2000, XP, 2003 Server, Vista 32 & 64, or Windows 7 & 8 32 & 64.

512 MB RAM

1 GHz Processor

Min 10 MB disk space
Existing customers who have purchased and activated the PipeFitPro Version 5 can download and use the latest version for free. All updates are done automatically after download (except for toolbar updates).
We care committed to providing a quality products and welcome any feedback, requests or bug reports you may have. Please contact us or submit a feature request.
AutoCAD LT Requirements
PipeFirPro does NOT work with AutoCAD LT unless you have CADSTA Tools loaded. CADSTA Tools is a computer program made for AutoCAD LT 2004+ and is developed by CADSTA Pty Ltd. Please contact us for more information as we can provide a free trial of CADSTA Tools upon request.
How to install
Step 1. Pick 'Run' or 'Save' to download the program from our server to your computer: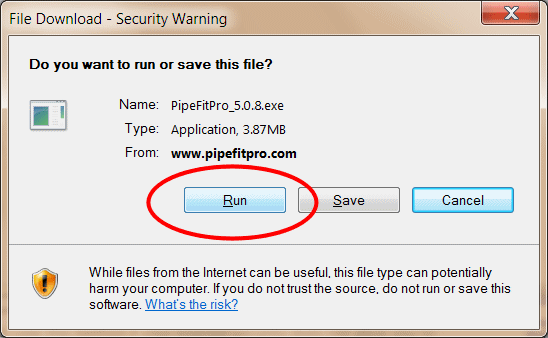 Step 2. Wait several seconds while download takes place: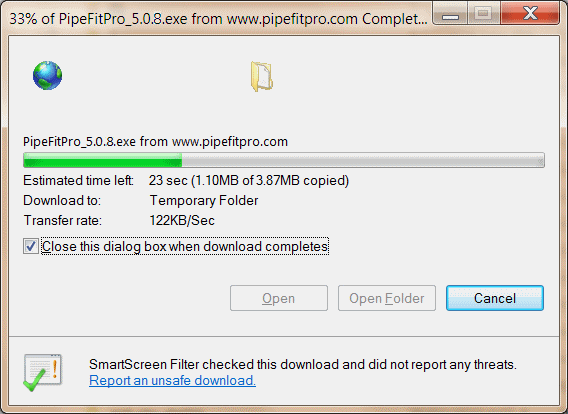 Step 3. Click 'Run' to open installer: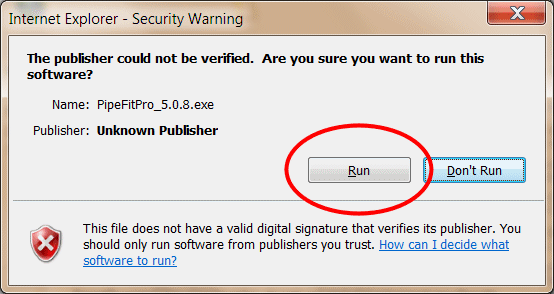 Step 4.Click 'OK' to install all files to C:\PipeFitProV5 (updates will also be installed):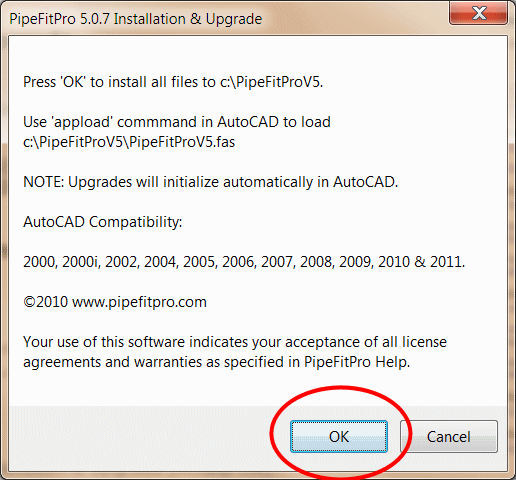 Step 5.The PipeFitPro 5 Help will open. Use this documentation as a reference guide or close it to continue.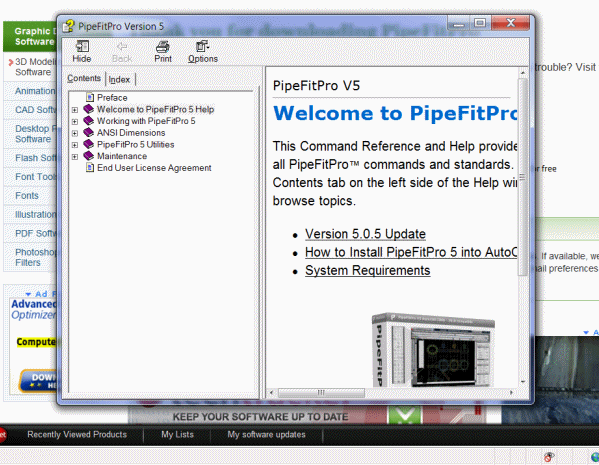 Step 6.Open AutoCADand type 'appload' at the command prompt and press Enter. Browse to the C:\PipeFitProV5 folder and Click on the 'PipeFitProV5.fas' (2000 to 2014)  or  'PipeFitPro2015.fas' (2015) file: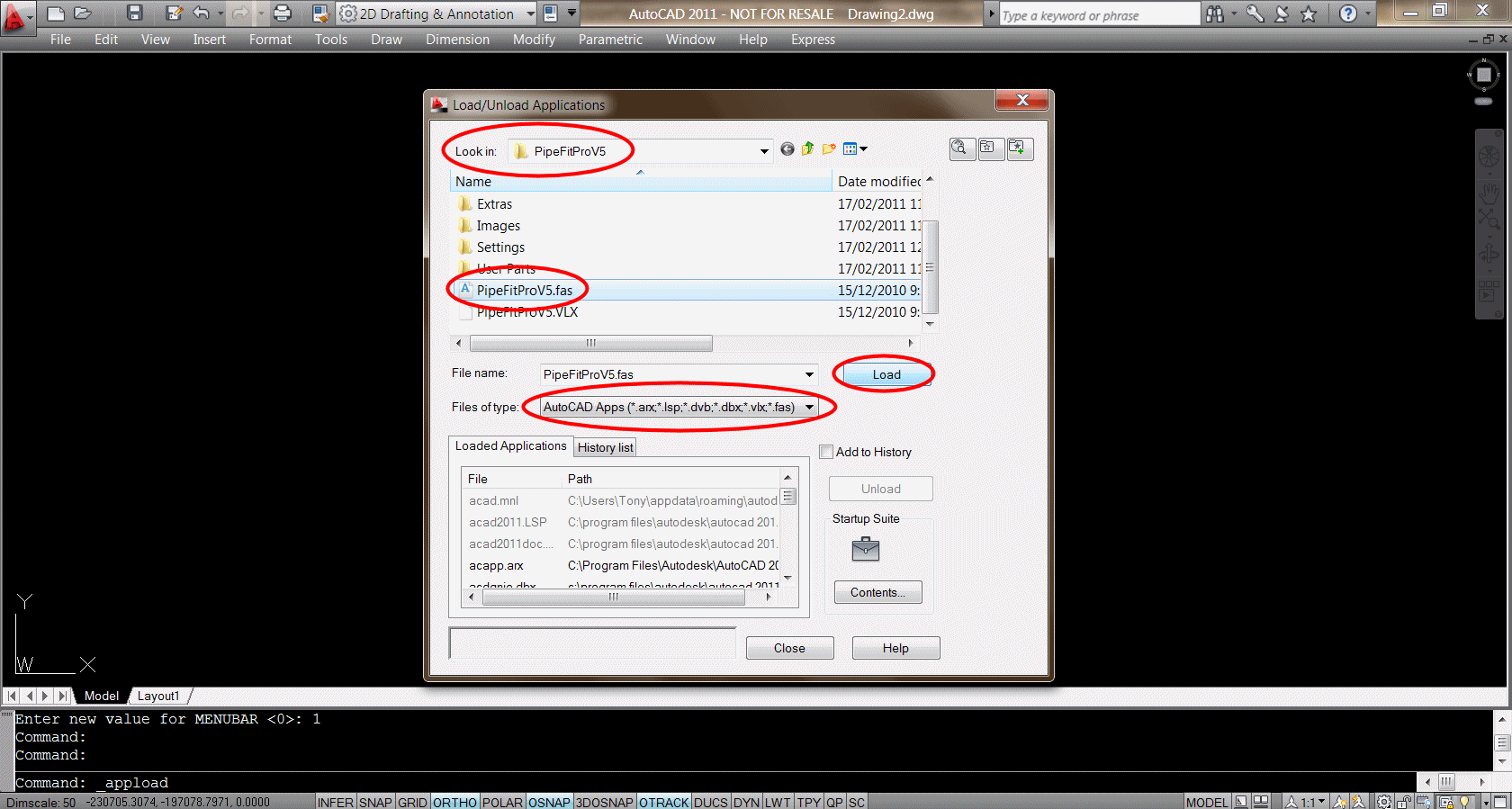 Pick 'Load' and then 'Close'
Press 'OK' to load PipeFitPro into AutoCAD.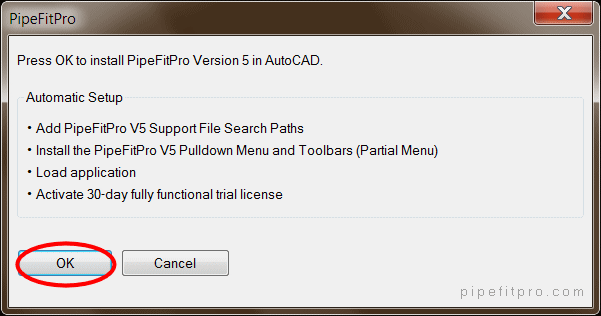 Follow prompts and restart AutoCAD. PipeFitPro will now be ready for use.
Recent Posts
Autodesk Authorized Developer
Our development team is a member of the Autodesk Developer Network (ADN), which provides access to industry-leading Internet, workflow, and second-generation object-oriented design technologies.
Read more here.